PRODUCT DESCRIPTION
This silky, subtly fragrant cream-gel glides effortlessly onto the skin, soothing the delicate underarm area and helping you to feel fresh throughout the day. It may be used on its own or in conjunction with your favoured antiperspirant or deodorant. The formulation employs a highly effective blend of botanicals to condition and absorb excess moisture from the skin. These include lilly pilly, which contains fruit acids (AHAs) to help improve skin texture, anthocyanins to help reduce inflammation and blemishes, and folate and Vitamin C to aid hydration and maintenance of the skin's natural barrier function. In complement, papaya extract not only helps to nourish the skin, but also effects gentle exfoliation and helps reduce the ingrown hairs and hyperpigmentation that can follow hair removal; anti-oxidant rich flannel flower helps to even out discolouration.

Fragrance profile: Earthy tones of sandalwood and vetiver combine with layers of fresh citrus, redolent of a fragrant forest.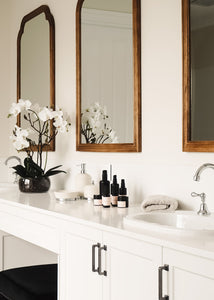 How to use
Apply to clean, dry skin as needed. If using in combination with an antiperspirant or deodorant, apply this product first. Use your fingertips to massage approximately half a teaspoon of Sanguine Days gently into each underarm area, applying with gentle downward movements.