Product Description
This luxuriously silky facial treatment is formulated to refine skin texture, enhance clarity and comfort, and effect a bright, radiant complexion daily. It employs a gold-encapsulated, stabilised form of Vitamin C, marine peptides and yuzu extract to protect your skin against damage caused by free radicals and UV radiation, minimise the formation of fine lines and wrinkles, and help improve firmness and elasticity. Marine actives work in complement to reduce oiliness and congestion, improve the appearance of pores, balance uneven skin tone, and minimise blemishes. They also help mitigate skin damage induced by environmental pollutants. Regular application will leave your skin beautifully soft, firm and smooth.

Fragrance profile: Warm, woody notes of cedar complemented by vibrant herbaceous tones of lavender and the warm, radiant citrus-floral tones of orange blossom.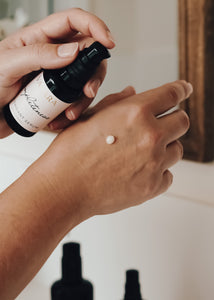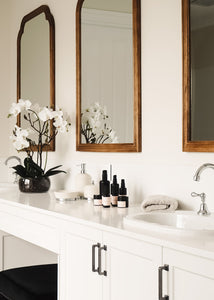 Key Ingredients
L-ascorbic acid is a stabilised form of Vitamin C, and a potent antioxidant and active for the skin. It helps to increase the skin's firmness and resilience, and provides protection environmental stressors. It can also be used topically to treat and prevent changes associated with photoaging. The version we have selected for our products is formulated with a higher pH than usual, which lowers irritation and minimises the discomfort that can be associated with use of Vitamin C in skincare. 
Marine peptides are oligosaccharides derived from brown algae. They help to smooth skin texture and to visibly reduce appearance of fine lines and wrinkles.
Yuzu is a popular citrus fruit native to Japan; however, the yuzu extract we use is sourced from a farm in the Byron Bay hinterlands. Rich in antioxidants and Vitamin C, it helps to brighten, nourish and smooth the skin. It also offers an interesting range of phyto-compounds known for aiding hydration and benefiting blemish-prone skin. 
Mountain pepper leaf is a native Australian shrub; when used in skincare products, its extract has significant antioxidant properties that are intensified by synergistic pairing with Vitamin C. We use an extract sourced in Tasmania. 
Plant-based collagen amino acids help to firm the skin, enhance radiance, and reduce visible signs of wrinkles. We use a sustainably produced biotech version in our formulations.
How to use
After cleansing and misting in the morning, dispense two to three pumps of Completeness Antioxidant Serum into your hands and gently press the product onto your face, neck and chest. Follow with your preferred Vasara moisturising product. Pair this formulation with a broad-spectrum SPF 50+ sunscreen to maximise protection against oxidative damage to your skin.
Frequently Asked Questions
Formulated at a skin-friendly pH that is higher and more neutral than conventional ascorbic acid, which reduces the likelihood of skin irritation and minimises the discomfort that traditionally comes with ascorbic acid use. This ingredient has outstanding antioxidant properties; it also enhances absorption.