Product Description
Velvety, lightweight, rapidly absorbed treatment oil to calm, fortify and deliver intensive moisturisation to tired skin. It also evens skin tone and helps to reduce signs of premature ageing caused by stress, poor sleep and fatigue. The formula is rich in emollients and antioxidants that help to improve elasticity, firmness and barrier recovery – including sandalwood nut oil, sea fennel extract, bakuchiol and Vitamin C. An ideal product for mature, reactive or sensitive skin that might respond adversely to clinical actives, Abiding Calm Nourishing Face Oil will leave your skin smooth, radiant and assuaged.

Fragrance profile: Sweet, warm floral notes of rock rose and orange blossom, balanced by subtle, powdery tones of amber.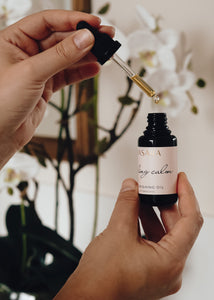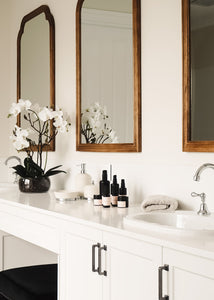 Key Ingredients
Sandalwood nut oil is derived from a native Australian tree. It is a lightweight, dry, and highly absorbable emollient rich in ximenynic acid – a rare polyunsaturated fatty acid (found almost uniquely in this botanical) that helps calm and soothe the skin by coating and protecting the epidermis. The sandalwood nut oil in our products is sourced from sustainable local plantations.  
Sea fennel is coastal plant native to Europe. In skincare, its extract is used to protect the skin's natural balance and to enhance hydration, giving radiance, uniformity and smoothness to the skin's surface. It is an ideal ingredient for sensitive skin. 
Bakuchiol is an extract of the babchi plant, native to India and used frequently in Ayurvedic practices. It has been clinically demonstrated to reduce hyperpigmentation and wrinkles, and to assist with minimising blemishes. Calming and soothing, it also significantly increases skin firmness and reduces the appearance of pores, serving as a gentle active for mature and sensitive skin. 
Squalane is a plant-derived humectant – an intensely hydrating oil that attracts and retains moisture, making for wonderfully supple, plumped and radiant skin. (Not to be confused with animal-derived squalene.)
Bisabolol is a chemical compound that occurs naturally in chamomile. Known for its soothing, calming properties, it supports skins barrier function and effects a hydrated appearance and skin feel. 
Calendula is a flower native to Europe; it also has a long tradition as a soothing herb in Ayurvedic medicine. Calendula extract contains saponins, flavonoids and carotenoids with antioxidant properties that are used in skincare to help reduce the appearance of fine lines and skin hyperpigmentation. It is often used, too, as calming ingredient in formulations for irritated, dry, and sensitive skin. 
How to use
After cleansing, morning and evening, dispense three to five drops of Abiding Calm Nourishing Face Oil onto your hands, then massage over your face, neck and upper chest with a gentle, consistent rhythm.
Follow with your favoured Vasara moisturising product.

This formulation may be layered under a serum or cream or blended with a cream to enhance hydration and moisturisation, or used as a stand-alone sensory treat.