Product Description
This lightweight mist is formulated with Manuka honey, velvet seaweed and select pre- and post-biotics to refresh, hydrate and firm skin after cleansing and before moisturising, or whenever you desire. Also helping to reduce visible signs of redness and boost natural barrier function, it will leave your skin looking radiant and feeling comfortably balanced, softened and fortified – ready to absorb serums, oils and moisturisers. Touchless spray application eliminates friction for sensitive skin.

Fragrance profile: Warm, earthy notes of sandalwood complemented by soft, comforting vanilla and the light citrus floral tones of neroli.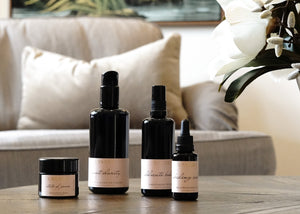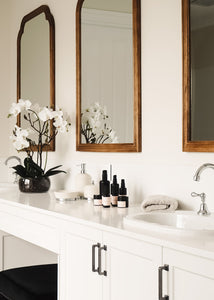 Key Ingredients
Manuka honey is a natural humectant rich in sugars, flavonoids and phenolic acids that aid moisturisation by coating and protecting the skin's natural barrier. It also well known for its soothing, antibacterial and antioxidant properties. 
Rich in polysaccharides and minerals, velvet seaweed provides immediate and long-lasting moisturisation to help keep your skin hydrated and supple.
Beta glucan is a highly purified polysaccharide produced by fermentation. (process offering a sustainable and eco-friendly renewal source) In skincare products, it functions as a prebiotic that helps reduce redness, reinforces skin defences, and aids skin renewal. It also effects a smoother look and feel by reducing the appearance of fine lines and wrinkles.
Bifida ferment lysate is a yeast-derived postbiotic that helps to protect the skin against damage caused by harmful environmental agents including UV radiation, and to counteract prior UV damage. This efficacy in turn helps to address signs of premature ageing, and aids in maintaining a radiant, youthful complexion.
Aloe vera is a botanical extract long known for its soothing properties and antioxidant qualities. Its high polysaccharide and sterol content also serves to boost hydration.
Wattleseed extract is high in amino acids, and helps to soothe, calm and nourish irritated skin. It comes with a rich heritage: more than 100 species of wattles, or acacias, are found across Australia; their vibrant green leaves and yellow flowers are a national emblem. Most have been used for millennia, with various parts used for food, medicine and tools. 
Galactomyces ferment filtrate is a nutrient-dense yeast with antioxidant properties – a by-product of fermented sake. In cosmetics, it is used as a moisturising agent, helping to improve the skin's natural barrier and protect the skin from environmental stress.
Tripeptide is a peptide formed from three amino acids; it helps to firm and moisturise the skin, and reduces appearance of wrinkles. 
Fig extract is a rich source of antioxidants, known for its capacity to enhance hydration by preventing water loss from the skin's uppermost layers, and to help reduce uncomfortably dry, tight skin, including compromised, redness-prone skin. It can also visibly improve uneven pigmentation.  
Grape seed extract is a versatile ingredient beneficial to mature skin and oily skin. It is nourishing and moisturising, rich in fatty acids, and in polyphenols that help reinforce the skin's firmness and suppleness. It also contains tannins, which have an astringency ideally suited to oily skin. 
How to use
After cleansing, lightly spritz three pumps of Delicate Balance Treatment Essence over your face, neck and chest; follow with your favoured Vasara moisturising product. Shake product well and close your eyes before applying. Keep on hand throughout the day for fresh application whenever needed.