Product Description
This soft, creamy, clay-based mask gently removes excess sebum and draws out surface impurities and residual traces of urban pollution. Cleansing and decongesting thoroughly, it exfoliates lightly, and refines pores and minimises blemishes as it balances, hydrates and nourishes your skin. Its exfoliant properties are derived from fermented yeast, and fruit acids native to Australia. Formulated with a blend of Australian and Mediterranean clays, and select botanicals including extracts of native river mint and red algae, it leaves skin feeling refreshed and purified as well as visibly refined and smoothed, with a radiant sheen and without a hint of tightness or dryness.

Fragrance profile: Earthy, woody notes of vetiver and sandalwood, complemented by the subtle citrus tones of petitgrain.
Key Ingredients
High in antioxidants, native river mint extract supports improved cell turnover and exfoliation, helping to minimise blemishes, even skin tone, and hydrate and nourish the skin. 
Red algae extract is a purifying ingredient rich in antioxidants that help to counter the stresses of environmental pollution. It also helps to balance excess sebum and to clarify and brighten the skin. 
The Australian and Mediterranean clays in this formulation are a blend of green and beige clays, rich in minerals and trace elements. They have a high capacity to absorb excess oil, and a mild exfoliating effect that removes impurities, leaving the skin refreshed and smoothed. 
Caviar Lime (Citrus australasica, also known as finger lime) is a fruit native to eastern Australia. Rich in natural alpha-hydroxy acids (AHAs), it effects gentle exfoliation, helping to smooth and brighten the skin, and to maintain a beautifully even skin tone.
White tea leaf extract is derived from the minimally processed buds and leaves of green tea. It contains a unique cocktail of powerful antioxidants called catechins, which help address damage caused by free radicals. This ingredient also helps to minimise blemishes, and its anti-inflammatory properties are known to help with redness.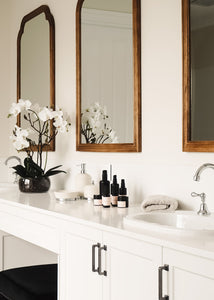 How to use
Twice a week, smooth a thin veil of Pristine Aspect Purifying Mask over your face and neck after cleansing, avoiding eye and lip areas, and using a gentle, consistent rhythm. Leave for approximately 15 minutes, then dampen your fingertips and massage your skin gently to loosen the product before rinsing off thoroughly with tepid water. Follow with your preferred Vasara moisturising product.

Amount to use: Use a small spatula to dispense one to two teaspoons of Pristine Aspect Purifying Mask onto the back of your hand, to avoid direct contact with the product in the jar.
Priming
To smooth your skin and allow for more even makeup application, apply daily, but rinse off after 5 minutes.
Decongesting
You can also apply this mask to affected areas after prolonged use of cloth or surgical face masks, to minimise blemishes and congestion.
Refining
For gentle exfoliation and to refine your skin's texture, use the morning after application of Radiant Dream Retinol Night Serum.