Product Description
Mild yet thorough cleanser formulated with sage extract, ceramides, and eucalyptus stem cells – which are rich in antioxidants that help to address the effects of urban pollution. Whilst effortlessly removing surface impurities, makeup, and excess oil, this product also enhances hydration and barrier function. With a pleasingly creamy texture, Quiet Clarity Gentle Cleansing Cream will leave your skin feeling clarified, refreshed and superbly soft – never taut or dry.

Fragrance profile: Warm, earthy, velvety notes of sandalwood, cedarwood and vanilla, complemented by the subtle citrus floral tones of neroli.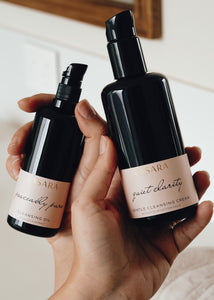 Key Ingredients
Sage extract is known for its purifying properties and for the antioxidant activity of its phenolic compounds. 
White cypress extract is rich in amino acids and antioxidants, and known for its anti-inflammatory properties. Both toning and hydrating for your skin, it helps to address indications of premature ageing,
and to effect a luminous complexion.
Ceramides are the lipids that make up your skin's natural barrier, helping it to retain moisture, and protecting it from potential irritants. Applying ceramides topically fortifies this barrier, helping your skin remain supple and healthy.
Eucalyptus stem cells, derived from the prolific native Australian eucalyptus or gum tree, help to purify congested, oily and dull skin by assisting in the elimination of environmental toxins, and decreasing oxidised oils on the skin's surface.
Ashwagandha extract is adaptogen native to India, often used in Ayurvedic medicine. A powerful antioxidant with skin-conditioning and nourishing properties, it helps to effect a radiant complexion. 
How to use
Dispense half a teaspoon of Quiet Clarity Gentle Cleansing Cream into clean hands and massage lightly over your face, neck and chest for 20 to 30 seconds, using a gentle, calming rhythm. Rinse off thoroughly with tepid water; repeat if needed. Follow with Delicate Balance Treatment Essence and your favoured Vasara moisturising product. To optimise the benefits of active ingredients, use morning and evening.