Product Description
Velvety, sumptuous Tranquil Renewal Replenishing Cream utilises an innovative delivery system enhance absorption and moisturise deeply while countering the effects of everyday stress and environmental pollutants. It firms and improves tone, and leaves skin soft, nourished and radiant. The formula includes a complex blend of peptides, which diminish the appearance of fine lines and wrinkles, refine pores and skin texture, and help to restore elasticity. It also contains wild indigo extract to help soothe skin, and Meadow foam oil for a smooth, cushioned finish. Use as a standalone moisturiser in warmer months; layer under Abiding Calm Nourishing Face Oil and/or your preferred Vasara moisturising product when cold conditions set in. Ongoing use year-round will see your skin glowing with vitality.

Fragrance profile: Warm, woody notes of sandalwood, complemented by the soft floral tones of jasmine.
Key Ingredients
The peptide complex in this formulation combines powerful peptides that are highly effective in tandem, aiding maximum absorption. The sum of parts helps to firm and lift the skin and enhance its appearance, improving tone as well as texture, reducing skin fatigue, and lending a radiant finish. 
Kangaroo paw (Anigozanthos flavidus), distinguished by its soft, furry blooms, is native to Western Australia's south-west. Rich in fatty acids, it helps to soothe, hydrate and intensively nourish the skin. The extract in this product is sustainably sourced and certified organic. 
Cottonseed protein binds moisture to hydrate the skin from within, soothes irritation, and buffers against external stressors. Delivering sustained comfort and a silky finish, it cushions the skin in a soft, nourishing and protective environment, somewhat like a cocoon. 
Wild indigo is a native Indian plant used in the Ayurvedic tradition for its capacity to help reduce visible signs of stress, dullness, fine lines and wrinkles. It also improves skin tone significantly. 
Meadow foam oil is a natural, antioxidant-rich emollient that aids in coating and protecting the skin, and replenishes it with essential fatty acids, effecting an elegant, cushioned feel and appearance.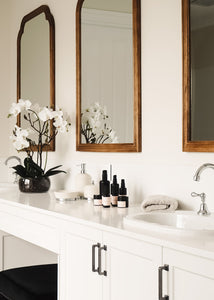 How to use
After cleansing, massage Tranquil Renewal Replenishing Cream over your face, neck and chest, morning and evening, using a gentle, consistent rhythm. For enriched hydration, follow with Abiding Calm Nourishing Face Oil.

Amount to use: Two pumps, or more as desired.