Product Description
Shimmer Softly Hydrating Mask provides immediate relief and comfort to irritated skin, allaying visible signs of redness and temporary redness and reactivity, and effecting intensive, sustained hydration. Formulated as lightweight gel-cream that cools upon contact, it utilises bisabolol and concentrated botanical and marine extracts – including ashwagandha ferment, hyaluronic acid and grape-derived antioxidant resveratrol – to soothe inflammation, boost moisture content and retention, and leave your skin plumped, supple and glowing.

Fragrance profile: Warm, radiant floral and herbaceous notes of lavender and orange blossom, enlivened by the refreshing citrus tones of lemon verbena.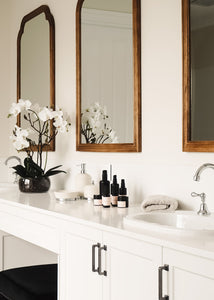 Key Ingredients
Hyaluronic acid is a salt known for its considerable capacity to attract and retain moisture, rehydrating deeply, plumping the skin, reducing the appearance of fine lines and wrinkles, and helping to sustain a firm, supple, radiant complexion. 
Resveratrol is a natural polyphenol produced by grapes and known for its antioxidant properties. It helps  that helps prevent signs of premature aging to reveal a brighter, soft and glowing complexion.
Ashwagandha extract is adaptogen native to India, often used in Ayurvedic medicine. A powerful antioxidant with skin-conditioning and nourishing properties, it helps to effect a radiant complexion. 
Betaine is a natural amino acid derived from sugar beets, with a strong water-binding capacity that ensures the skin retains moisture effectively.
Papaya extract, sourced from the leaf, bark and flesh of the nutritious tropical fruit, contains a high concentration of papain – an enzyme which breaks down old and damaged skin cells, thereby encouraging cell regeneration and helping to effect superbly smooth skin. It is also effective in aiding moisture retention.
Monk's pepper is extracted from the fruit of the chaste tree (Vitex agnus-castus). It not only moisturises skin and effects a radiant finish, but also stimulates collagen production, aids firmness and smoothness, and helps to minimise fine and deeper lines. 
Olive leaf extract is rich in antioxidant and anti-inflammatory polyphenolic compounds (oleuropein), which help to soothe the skin, eliminate harmful free radicals and stimulate cell turnover, and brighten and smooth your complexion. This ingredient is also promotes collagen production and has anti-microbial, properties, which makes it an excellent addition to formulations for inflamed, sensitive and mature skin.
How to use
Use three times per week, or whenever your skin feels in need. For an immediate hydration boost, apply a generous layer of Shimmer Softly Hydrating Mask over your face and neck with a gentle, consistent rhythm, avoiding the eye area. Leave for 15 minutes, then wipe away excess product.

Amount to use: From half a teaspoon to a full teaspoon.
Targeted treatment
To provide soothing, targeted care to patches of dry skin on your face and neck, dispense half a teaspoon and massage gently into the areas in need. Wipe away excess product after 15 minutes.
Travel mask
As a leave on treatment, this mask is also perfect as a pre-emptive measure against dehydration during lengthy flights; and to help rehydrate your skin after time spent in harsh conditions outdoors.
Sleep mask
For intensive, sustained comfort, apply a thin veil of Shimmer Softly Hydrating Mask to your face and neck, as above, and leave on overnight. Continue with your morning regimen.